PG-HQ's Most Wanted
The Panzer Grenadier Headquarters Bounty Program was launched on January 1st, 2011 in order to recognize those members who are doing the most to improve the quality of the database, tackling the most grognardly scenarios, or both.
Each scenario has a play bounty and an AAR bounty, the values for which are calculated based on a wide variety of factors including scenario size, scenario rarity, etc. For an in-depth explanation of the math behind the bounty values see article #8: A Hunting We Will Go...
Scenario bounties are recalculated at most 30 minutes after submission of a new play or AAR. For shared plays, the first bounty claimed is also awarded to all subsequent participants so no one on the same shared play is penalized for adding their results late.
The core motivation behind the bounty hunting system is improving both the play and AAR coverage of PG-HQ's database. Our holy grail, as far as I'm concerned, is 100% play and AAR coverage.
The challenge has been issued! Are you grognard enough to meet it?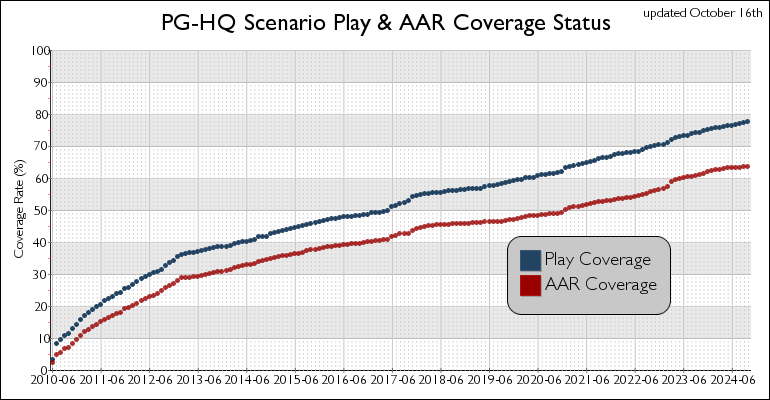 Top 10 All-time Hunters
Hunter
Bounty Total
Matt W
135,828
JayTownsend
128,720
thomaso827
82,710
driddle01
78,381
campsawyer
66,665
waynebaumber
61,731
Michael Murphy
60,637
enrique
58,406
Brett Nicholson
51,965
Hugmenot
49,515
Log-in to see the top 20 bounties from your collection!